There may be times when you may need to hack into someone's Facebook account. The reason can be any, it may be because you may want to keep a check on your child to make sure they are not involved in any inappropriate behaviour or it may be when you suspect that your partner may be cheating on you. Either way, Facebook hacking is not impossible. There are several ways to hack a Facebook account including session hijacking and cookie stealing. Although these methods are feasible to an extent, they do involve a whole lot of effort to be put in by you. Instead, you can try out the following simple ways to hack Facebook without survey.
| Ways | About | Safety | Efficiency | Difficulty | Time Required |
| --- | --- | --- | --- | --- | --- |
| KidsGuard Pro App | Third-party phone monitoring app | Very safe | 100% | Simple | Less than 5 minutes |
| Forgot Password Option | Official Facebook password recovery method | Slightly risky | 20% | Complicated | Several hours or even days |
| Phishing Sites | Creating Facebook site replicas to get the login password | Risky | 80% | Technical expertise needed | Several hours |
| Hacking Tools | Free online Facebook hacking tools | Highly risky | Close to 0% | Simple | Few minutes |
Way 1: Hack Facebook Without Survey Using KidsGuard Pro, 100% Work
The best way to hack Facebook free no survey would be to use a third-party app like KidsGuard Pro. This app is incredibly efficient is performing Facebook hack and can let you check all the activities on the Facebook account of the target phone user without they knowing. You would not even need to know the user's account login details, with just a one-time access to their phone you can easily track their Facebook account.
Why Choose KidsGuard Pro
Best 5 Ways for Free Facebook Hack without Survey This is because today every kid is a tech geek and knows how to use Facebook. As it is possible to get all types of folks on Facebook, it's no surprise that parents wouldn't want their kids to communicate with a few shady men and women. Top 1 Facebook Password Cracker – Spyzie. This is one of the best apps to hack someone's else. The facebook password hack will start the facebook hack tool and you will hack online fb account quickly. A lot of hacking requests are automatically processed by our web-based application fb hacker. The success rate to getting facebook account's password for free is an outstanding 98%. The average time of the hacking process is 3 minutes to. Hyper-Cracker is another Facebook password cracker that comes as an online tool. If you don't need to take the trouble of downloading software, you should try this online password hacker. With a bit of luck, this tool can hack into someone's Facebook password relatively quicker (How to hack secret conversations on Facebook). Oct 13, 2014 - Wechat hack tool 2014 working no survey tool: I have used many wechat hack tricks and many other snapchat hack password cracker tools.
The installation of the app can be done in less than 5 minutes.

It performs the monitoring functions on the target phone in stealth mode.

You would not have to root or jailbreak the device in order to install this app.

Provides a pretty clear and intuitive online dashboard for remote monitoring.

You do not need to know the Facebook username and password. You just need to access the target phone once to install the app.
Steps to use KidsGuard Pro to Hack a Facebook Account
Step 1: Register an account of KidsGuard Pro and choose a pricing plan.
Step 2: Download and install the app on the target device from www.clevguard.net.
Step 3: Login to your KidsGuard Pro account and make the necessary configurational changes on the target phone for the app to work.
Step 4: Now visit the KidsGuard Pro's online dashboard from any other device and click 'Facebook' from the left menu. You will be able to access all the Facebook activity details on the target phone, including incoming and outgoing messages, app notifications, screenshots and more.
This is how efficient KidsGuard Pro can be to let you hack into a Facebook account. You can try its live demo first before purchasing.
What KidsGuard Pro can do in Facebook Monitoring
1. This app has a keylogger function which lets you know about the outgoing messages on Facebook and Messenger app.
2. You can even read the Facebook notifications which pop on the target phone. This will help you check the incoming messages and account activities.
3. The screenshot feature comes into great use if you want to check the current screen when the target user is currently using Facebook.
Way 2: Hack Facebook Account Using Forgot Password Option
You can use the Forgot Password option to perform Facebook hack no survey if you know a few details about them. You would surely gain access to their Facebook account but the user would not be able to login to their Facebook account again. Follow the step by step guide below to know how you can hack into a Facebook account using this method.
Step 1: From the main login page of Facebook and click on the 'Forgot Password' option.
Step 2: Enter the email ID of the user whose Facebook account you are looking to hack.
Step 3: Next, click on the 'No longer have access to these' option and key in an email ID which is linked to the Facebook account you are hacking. The password reset link will be sent there.
Step 4: Try to give the right answers to the security questions. If you do not know the answers, click on the 'Recover account with the help of friends' option.
Step 5: Get this security code from any of the friends listed by you. You can then reset the password and log in the target's Facebook.
There is a huge flaw in this method of hacking a Facebook account. When you try to reset the password, the reset link also gets sent to the user's email address. If in case the user checks this before you, this method would fail.
Way 3: Facebook Hack No Survey with Phishing Sites
Phishing is yet another popular way in which many hackers try to hack Facebook account without survey. If you have proper knowledge of how to design a website, you can make use of this method to hack a Facebook account.
You would first have to create a phishing web page, which looks exactly like that of the Facebook login page needs to be created. Once this is done, you will have to trick the user to login to their Facebook account through this web page.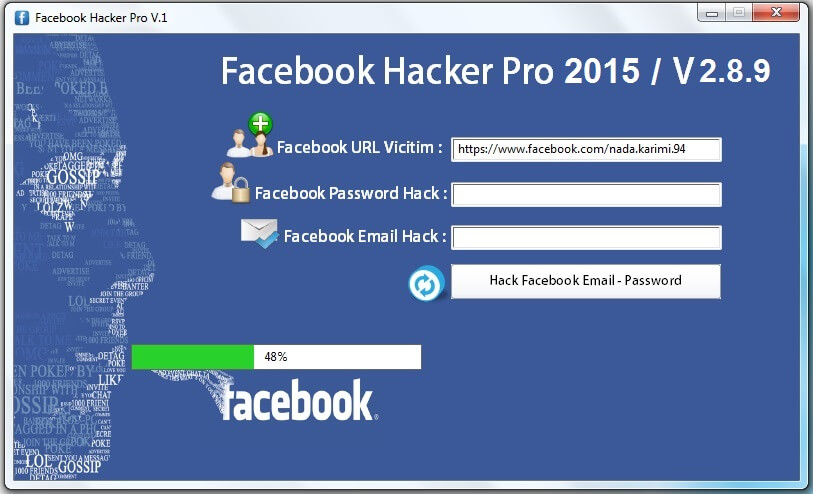 If they do this, their Facebook account page would not open, an error would be displayed. However, their login details like their username and password will be stored. You can access this later on your email ID.
This method does not pose any risk to the safety of your data but it does need a bit of technical expertise to follow through. Also, for such a web page, you will need to make an investment in the domain and hosting name.
Way 4: Use online, free Facebook Hacking Tools
There are many websites on the internet which specifically claim that they can assist you in hacking any Facebook account with just the email ID or username using their online tool. As a matter of fact, none of these online Facebook hacking tools works. Facebook is a site with global recognition. With so much being invested in it, you can very well assume how much effort and technical expertise would have gone into ensuring that the information on Facebook is kept safe.
These websites ask for you to enter the email ID saying that the results will be sent there. However, nothing of that sort ever happens. If you choose to use these free Facebook hacker without survey tools, remember that these websites are just scams which are there to collect your personal data and store it in their database.
Conclusion
Although there are several ways which are discussed to help you know how to hack Facebook without survey, using the third-party tools for this purpose would be a wise choice. The most recommended third party tool for Facebook account hacking is KidsGuard Pro. It is very effective in giving out the necessary details of the user's Facebook activity without the need for a password or a username.
Hack Facebook Account 2021 – This post tells you to hack a Facebook account, the possible methods you can try. Please note that we never recommend anyone to hack someone's Facebook account.
It is very important to use these tools that you understand the legal implications of undertaking Facebook password hacking.
Reasons why you might want a Facebook Password Hack
To gain your own account back
Play a prank on one of your friends
Take control of a dormant Facebook account that of significance to you
You just need to know some of the friends on Facebook. Here we go with some of the best methods to Hack a Facebook account.
Method 1. Using Facebook Account Hack
Facebook Account Hack comes first on our list. Facebook account hack lets you hack Facebook Account in 2021 easily. Facebook account hack doesn't require any survey like other similar tools. Just visit the website and follow those instructions to hack any Facebook accounts.
Go to the Victim's Profile
Copy the Facebook profile ID
Paste the ID into the box
Click on Hack and wait for the results to be generated.
Method 2. Using Hacksn
Using Hacksn is another great way to try a Facebook account. Hacksn claims that they can not only hack a Facebook account but also Instagram, Twitter, LinkedIn, etc.
Like Facebook Account Hack too, you just need to enter the victim's profile URL and click Hack and you are done. This service is developed by tens programmers.
Method 3. Use Secret Facebook Hacker
Using Secret Facebook Hacker open your way to hack a Facebook account. Like any other similar tools, you need to go to the profile you want to get access to. Simply copy the profile URL, Paste it, and click Proceed to start a Facebook account hack.
Method 4. Using Hack Account
Like Hacksn, Hack Account claims that they can anyone Facebook, Instagram or Email accounts easily. They said the Facebook Hack tool will help you to get access to any other Facebook account. Using this tool, you can get their password and if you wish, you can change that too.
Method 5. Use Password Revelator
Using Password Revelator comes next into our list. This is not a free tool like the above tools. They claim that for more than 10 years, their tool lets all Facebook users a possibility to hack any Facebook accounts easily. It has no limits and can be used to recover unlimited Facebook accounts and passwords.
Method 6. Using GotoDivesHack
Using GotoDivesHack seems legit in this business as they claim that they can generally hack about 8 of out 10 accounts. You can directly get into Facebook account hack or watch their tutorial video to get started if you don't know how to use the tool.
Method 7. Use FB Hacks
FB Hacks comes next here. According to them, Facebook hacking is possible in these days. They claim that an advanced programming expert can hack into facebook account with relative ease these days easily. You just need to enter the username or profile URL of the victim to hack an account.
Method 8. Using Account Hacker
Like other tools mentioned above Account Hacker is not an online tool. You need to download the software on your system to get started. The tool is absolutely free, yes Account Hacker lets you hack Facebook for absolutely free. It is speed, security and affordable for everyone.
Method 9. Using Facebook Password Sniper
Facebook Password Sniper tool comes next to our list that helps you to Hack Facebook Account in 2018. The tool was made in 2013 and used so far my tons of users. The site says most users don't follow any security advice given to them by the sites itself, therefore, all kind of these hackings are possible.
How to hack a Hack Facebook Account using Facebook Password Sniper? Just follow these steps.
Got to victim's Facebook profile page
Copy the username from the address bar
Paste the username in the provided field
Click on the start button and wait to start the process
Method 10. Using Exon Hack
Exon Hack Hack4me comes first into our list. To get started, simply insert a valid ID from an existing profile on the social network Facebook and just follow the steps to hack any Facebook account.
Like to know how it works? It is really easy. Hack4me Shellcode uses the latest exploits of Facebook to find the password of the targeted account.
Method 11. Using FB Tracker
FB Tracker comes next to our list. It is one of the professional rare websites that ask users to signup to the website to use the service. It is not a free service, you have to pay $60. It offers Facebook profile username and password, Messenger app chat history of a target, Content published on the wall and groups, Likes, comments and friendship requests, etc. If you have any questions, you can contact their customer service executive available 24/7.
Method 12. Using Hyper Hacker
Hyper Hacker comes next to our list. It is one of the popular and emerging hacking tool that lets you have any Facebook accounts easily. The website looks entirely clean and neat. It is also really easy to use.
You just want to enter the victim's username into the given section and click now to start the hack. The tool is absolutely free to use and doesn't force you to download any software. Unlike other similar programs, it works instantly and absolutely secure from viruses. The service is completely free and you can use it without any worries.
Method 13. Hacking Passwords
Hacking Passwords comes next to this list. It is not like other software mentioned above, you should create an account on this service to use it. The service calls itself an Instant Hacker. The tool mainly used to Read correspondence, incoming and outgoing messages, Recover page password in case of loss, View hidden and private information, User correspondence in the FB Messenger app, etc.
The app is cross-platform where you can use it on your Windows PC, Mac, and compatible with Android and iOS devices.
Method 14. Using Facebook Password Sniper
The next thing we are going to look at is Facebook Password Sniper. If you open this website, you will get an impression of something. That's how the website is built and there is no problem in using it. When you first visit the website it is clearly written who they are and how they can help you.
Once what they say is clear, we can move on to the next step, yes, that's what we came for. Click "Open Facebook Password Sniper" put the Facebook username or ID and get started. Just follow their steps and win.
Method 15. FB Tracker
Next, we are going to look at FB Tracker software. Probably the best website I've ever seen on this list. If you visit the website, you will sometimes come to the same opinion as I said. You should create an account to use the service, don't worry it is free to use. This website will teach you how to hack your Facebook account remotely and read the chat history of the users without accessing their device.
Method 16. Using FbSploit
FbSploit comes next to our list. The website is really easy to use, It doesn't;t confuse with unwanted links or things. The only thing you want to remember to use this site is you have to register an account to use this service. You won't need to pay a single penny to use the service. Just register and enjoy the service.
Hack Facebook Password Free Online No Download No Survey 2014 Pdf
Method 17. Facebook Password Sniper
Hack Facebook Password Free Online No Download No Survey 2014 2018
Facebook Password Sniper was already used by tons of users and its success rate is really higher than any other tools in this list. Just click "Open Password Password Sniper" and start to use the service for absolutely free.
We will update the article with more updates to Hack Facebook Account in 2021 soon.